Play the game
Friday Night Fever (Taki's Revenge)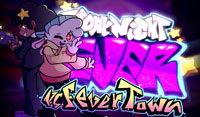 Friday Night Fever (Taki's Revenge)
Friday Night Fever (Taki's Revenge)
FNF Vs. Fever Town for Friday Night Funkin' lets you play as Fever, the mayor of Fever Town. On your way back from space, you ended yourself in an unfamiliar city where you quickly became mayor. Files are piling up in a city filled with crooks and misfits, and your relationship with your girlfriend is also strained at this point. Will you be able to sing your way through six weeks of dealing with the city's issues and the slew of opponents that show up at your office to put you to the test? It has 20 new songs, complete weekly dialogue, and two new difficulty modes: Baby and Hard +.
This is the latest news about Taki's Revenge: There is now four weeks total. There are two new songs this week, Prayer and Bad-nun.
How to Play?
Use WASD or Arrow Keys to play Friday Night Fever (Taki's Revenge) Online Mod on your PC or laptop. + and – to increase/decrease the volume, 0 to mute. Enter to select. ESC to go back.