Play the game
FNF vs Tricky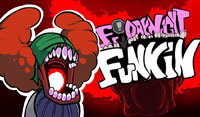 FNF vs Tricky
FNF vs Tricky
The action of FNF vs Tricky, Friday Night Funkin' mod, takes place in Nevada. Tricky The Clown appears from nowhere and emerges from the depths of the earth. Improbable Outset, Madness, Hellclown, and Expurgation are the four songs Tricky the clown performs for you to unlock. Tricky, the second enemy in the series Madness Combat, will challenge you to a rhythmic duel in which you must miss as few notes as possible! The complexity of the game will be raised with the addition of the mod's new gameplay elements. Black and red flame notes are scattered around Hellclown, and striking them costs the player 20% of their health. The fiery notes in Expurgation have a black aura around them, and touching them will knock the player unconscious!
Tags: Girlfriend FNF, Tricky FNF
How to Play?
Use WASD or Arrow Keys to play FNF vs Tricky Online Mod on your PC or laptop. + and – to increase/decrease the volume, 0 to mute. Enter to select. ESC to go back.