Play the game
FNF Vs. Impostor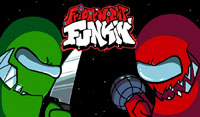 FNF Vs. Impostor
FNF Vs. Impostor
FNF vs Impostor is a mod that pits you against the eponymous character from the acclaimed video game Among Us. The primary adversary, the Impostor, is tasked with the murder of the whole crew and the destruction of the ship. With your singing, you'll be able to keep yourself alive in his presence. Despite his tremendous opponent's dedication to his mission! Cissus Moogus, Sabotage, and Meltdown try to identify the imposter in three epic songs. The mod, as usual, has three difficulty settings; will you have the stamina to complete it on hard?
FNF Vs Impostor V3 Update: The Green Impostor adds three more weeks and a bonus song to the original mod. The plot of Green Impostor has surprises and is one of the most challenging extra songs, so the effort will be worthwhile.
Tags: FNF Imposter, Girlfriend FNF
How to Play?
Use WASD or Arrow Keys to play FNF Vs. Impostor Online Mod on your PC or laptop. + and – to increase/decrease the volume, 0 to mute. Enter to select. ESC to go back.