Play the game
FNF Vs. Sonic.Exe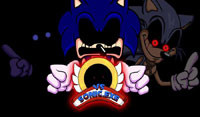 FNF Vs. Sonic.Exe
FNF Vs. Sonic.Exe
Friday Night Funkin' mod that pitted FNF Vs. Sonic.Exe
During this FNF Online Mod, Exe will allow you to square off against Sonic in a rap battle.
Exe is a curious variation of the well-known blue hedgehog, whose ancestry remains a mystery. Crimson the Bat, a fan game developer, created the wicked version of Sonic in 2012, despite many ideas and spooky anecdotes (creepypasta) regarding its origins. After impaling his friend's head, Sonic stabbed Tails in the skull with a wooden stake. Exe will challenge Boyfriend to a song duel in a bizarre and ominous setting. Despite the bizarre occurrences that will occur, if you manage to win the fight, a surprise awaits you on the game's main menu. RightBurstUltra and his crew have succeeded in paying homage to the character's mythology with their mod. With its gloomy aesthetic, game menus almost similar to those found on the "original CD-ROM," and brand-new soundtrack, Sonic.exe puts you right in the heart of its unique fantasy world.
As part of this important upgrade to the Vs. Sonic.exe V2 mod, seven new songs may be discovered via a narrative mode broken into various acts. Beat Sonic.exe, Beast Sonic, Tails, Knuckles, and Eggman in epic battles with animated cutscenes and soundtracks of epic music. You may expect to see many allusions to the Sonic video game universe at this event!
In FNF Vs Sonic.exe V2, there are also many surprises to discover! To access more content, go to "Sound Test" in the main menu and input some codes.
FNF Sonic.exe Codes:
0-0 / 6-6 / 9-10 / 1-13 / 12-34 / 23-23 / 32-8 / 41-1
Tags: Boyfriend FNF, Sonic Exe, Tails FNF
How to Play?
Use WASD or Arrow Keys to play FNF Vs. Sonic.Exe Online Mod on your PC or laptop. + and – to increase/decrease the volume, 0 to mute. Enter to select. ESC to go back.