Play the game
FNF Character Test Playground Remake 3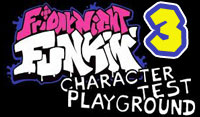 FNF Character Test Playground Remake 3
FNF Character Test Playground Remake 3
Get ready to meet some awesome new characters in the latest version of the popular Character Test Playground game, FNF Character Test Playground REMAKE 3. This game features a whopping 16 playable characters, including some cool new additions that you won't want to miss.
Test out characters like Shaggy, Starving Artist, Agoti, Monika, Duck, Matt, Big Chungus, Bus, Pumpkin Pie, Annie, Sketchy, CJ, and Static. Moving the characters around is easy – simply use the arrow keys, just like in regular rhythm games. Want to change their appearance or pose? Just click the B button for their other mode.
With simple gameplay mechanics and a wide variety of characters to choose from, FNF Character Test Playground REMAKE 3 is the perfect way to test out your favorite characters and have some fun. So why wait? Start playing now and experience all the musical excitement that Friday Night Funkin Games has to offer!
Tags: FNF Test
How to Play?
Use WASD or Arrow Keys to play FNF Character Test Playground Remake 3 Online Mod on your PC or laptop. + and – to increase/decrease the volume, 0 to mute. Enter to select. ESC to go back.