Play the game
FNF Vs Rewrite (Sonic exe)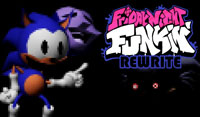 FNF Vs Rewrite (Sonic exe)
FNF Vs Rewrite (Sonic exe)
The FNF Vs Rewrite (Sonic exe) mod plunges Boyfriend into the world of Sonic.exe once again. The first rap battle takes place on the song "Thriller Gen" against a new opponent, the corrupt version of Sonic known as Rewrite. He has become a popular character in Creepypastas around the world of the famous blue hedgehog. The second challenge is "Trinity," where Boyfriend must sing against Majin Sonic, Sonic.Exe Lord X, and Rewrite.
FNF Vs Rewrite (Sonic exe) is an excellent mod for Friday Night Funkin' fans who enjoy horror and visual novels. The mod features new characters, music, and graphics that add to the overall experience of the game. Players who are looking for a new challenge will appreciate the challenging but fun gameplay of FNF mod. Get ready for some rhythmic battles that will keep you on your toes! You may also like FNF Sonic Corrupted Generations and FNF vs Sonic Exe 2.0
Tags: Sonic Exe
How to Play?
Use WASD or Arrow Keys to play FNF Vs Rewrite (Sonic exe) Online Mod on your PC or laptop. + and – to increase/decrease the volume, 0 to mute. Enter to select. ESC to go back.