Play the game
FNF Vs. Herobrine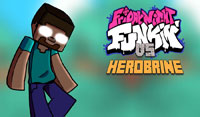 FNF Vs. Herobrine
FNF Vs. Herobrine
Now Boyfriend must face HIM! The tale was genuine, after all. An interesting and enigmatic figure from Minecraft will be facing off against our song star in FNF Vs. Herobrine, a mod for Friday Night Funkin' game. He's here, ready to take on Boyfriend's first song, Recreated. Herobrine's nearly caustic sound and music soaked in bass will not be too much for the pleasant wind wafting in the air on this full moon evening. Make sure you don't be rattled by your opponent's intimidating hand signals or the growls of the Creepers that surround you. The second song, Danger, is quicker, so you'll need to be at your utmost concentration to keep up. The cursed notes that Herobrine will make regularly emerge on your music sheet, as well as the moon shaking and changing colour to the rhythm of the music, will add to the challenge.
Get ready to hear some new bangers from FNF vs Herobrine. Set the volume to maximum and warn your friends and family members because this will be a loud one!
Tags: Boyfriend FNF, FNF Minecraft
How to Play?
Use WASD or Arrow Keys to play FNF Vs. Herobrine Online Mod on your PC or laptop. + and – to increase/decrease the volume, 0 to mute. Enter to select. ESC to go back.