Play the game
FNF Vs. Tails: Secret Histories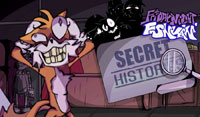 FNF Vs. Tails: Secret Histories
FNF Vs. Tails: Secret Histories
FNF Vs. Tails: Secret Histories mod for Sonic the Hedgehog will take you inside Tails' mind as he struggles with his demons. Tails' real face will be revealed to you in a brilliant rap battle that will put your singing skills to the test! The plot of this mod is inspired by the popular YouTube movie Secret History of Sonic & Tails by the creators of mashed. Angry Miles "Tails" Prower, Sonic the Hedgehog's adored hero and irritating sidekick, can no longer abide being a supporting character. You'll have to sing five incredible songs against the clock for one week to win. A seething and extremely angry Tails will jeopardise Boyfriend's sense of rhythm. This time it's all about you.
Best Friends, Red Flag, Deadly Obsession, Dark Secrets, and Confrontation are among the songs included on the album.
Tags: Boyfriend FNF, Sonic Exe, Tails FNF
How to Play?
Use WASD or Arrow Keys to play FNF Vs. Tails: Secret Histories Online Mod on your PC or laptop. + and – to increase/decrease the volume, 0 to mute. Enter to select. ESC to go back.