Play the game
Animation vs FNF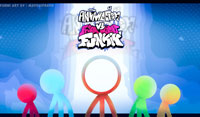 Animation vs FNF
Animation vs FNF
Animation vs FNF is a popular online game that combines the elements of rhythm games and animation. In this game, players have to compete against each other in a battle of rhythm and animation skills. The game features characters: Boyfriend from FNF (Friday Night Funkin) and a variety of animated characters from different universes.
Gameplay
Enter the world of FNF, where the stickmen rule and epic rap battles await. Begin your adventure with six rhythmic rap battles against multiple stickmen, followed by other challenges in the Freeplay menu.
Characters
The main character of FNF, Boyfriend, is a cool and suave character who loves music and dancing. He is always up for a challenge and never backs down from a battle. On the other hand, the animated characters come from different universes and have their own unique styles and personalities. In this FNF mod, Boyfriend faces off against various opponents, including Funkin' Green, The Dark Lord, The Chosen One, and animator Alan Becker. Most stickmen come from Alan Becker's Animation vs. Animator web series.
Graphics and Sound
The graphics of Animation vs FNF are vibrant and colorful, with each character having their own distinct look and feel. You'll have access to seven bonus songs, including the extremely difficult "Vengeance". Flawless coordination and quick reflexes are necessary to press space when the "danger" signal appears.
Animation vs FNF is a fun and engaging game that combines the best elements of rhythm games and animation.
If you want more FNF mods, check FNF Vs Stickman and FNF Vs Accelerant Hank
How to Play?
Use WASD or Arrow Keys to play Animation vs FNF Online Mod on your PC or laptop. + and – to increase/decrease the volume, 0 to mute. Enter to select. ESC to go back.