Play the game
FNF Multiplayer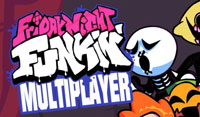 FNF Multiplayer
FNF Multiplayer
FNF Multiplayer is a rhythm game that has taken the gaming community by storm. This game is the multiplayer version of the popular Friday Night Funkin' game, which was released in 2020. The FNF game has attracted a huge fan following due to its unique gameplay, catchy music, and colorful visuals.
Gameplay
The gameplay of FNF Multiplayer is simple yet challenging. Players have to follow the rhythm of the music and press the corresponding arrow keys on their keyboard. The game features different modes, including solo and multiplayer battles. The multiplayer mode is where the game really shines, as it allows players to compete against each other in real-time.
Multiplayer Mode
Currently only 2 player mode is available. In any case, we hope to test the game with a full multiplayer mode in the nearest future. Stay tuned.
Characters
FNF Multiplayer features a wide range of characters, each with their unique style and personality. Players can choose from popular characters like Boyfriend, Girlfriend, Daddy Dearest, and many others. Each character has their unique set of moves and special abilities, making the game even more exciting.
Music
The music in FNF Multiplayer is one of the standout features of the game. It features a mix of different genres, including hip-hop, electronic, and pop. The game's soundtrack is composed by well-known artists like Kawai Sprite, Phantom Arcades, and others.
Graphics
The graphics of FNF Multiplayer are colorful and visually appealing. The game features a retro-style design that is reminiscent of classic arcade games. The characters are well-designed, and each one has their unique animations and expressions.
This is a fun and addictive game that is perfect for anyone who loves rhythm games. Its multiplayer mode adds an extra layer of excitement, as players can compete against each other in real-time. The game's catchy music and colorful visuals make it an enjoyable experience for players of all ages.
Tags: Boyfriend FNF, FNF Garcello, FNF Imposter, FNF Pibby, FNF Test, Girlfriend FNF, Pico FNF, Sonic Exe, Tord FNF, Tricky FNF
How to Play?
Use WASD or Arrow Keys to play FNF Multiplayer Online Mod on your PC or laptop. + and – to increase/decrease the volume, 0 to mute. Enter to select. ESC to go back.