Play the game
FNF Vs. Auditor: Gateway to Hell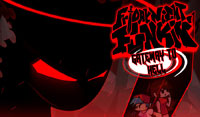 FNF Vs. Auditor: Gateway to Hell
FNF Vs. Auditor: Gateway to Hell
During the FNF Vs. Auditor: Gateway to Hell for Friday Night Funkin' mod, Boyfriend will confront some of the strongest opponents he's ever met. A total of eight songs are included in the mod's three weeks of content. First, up will be The Auditor, a monstrously strong and deadly foe impervious to physical harm. Only Boyfriend's immaculate musicianship and amazing rhythm can stop him! The Auditor initially appears in Madness Combat 6.5 as one of the game's primary villains. As a result, he permitted Tricky's resurrection, transforming him into an out-of-control combat machine. Your opponent for the second week is Tricky himself, who will take on the role of Auditor and attempt to stifle Tricky's uprising via the medium of music on three different tracks. In the end, you'll face the scariest test of them. Rap fight with Auditor over two wild tracks in the final round!
Songs: Encavmaphobia, Supremacy, Gateway, Captivity, Unhinged, Dissension, Damnation, Monochrome
Tags: Boyfriend FNF, Tricky FNF
How to Play?
Use WASD or Arrow Keys to play FNF Vs. Auditor: Gateway to Hell Online Mod on your PC or laptop. + and – to increase/decrease the volume, 0 to mute. Enter to select. ESC to go back.