Play the game
FNF Funkin' Mix Mod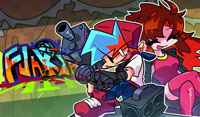 FNF Funkin' Mix Mod
FNF Funkin' Mix Mod
Get ready for a fresh and exciting take on Friday Night Funkin with FNF Funkin' Mix, a mod that brings a new twist to the game's storyline. In this mod, you'll see Boyfriend's fate take a sharp turn after an attack by Pico and Otis leaves him injured. As a result, he becomes a gangster who works for Daddy Dearest, and things only get more interesting from there!
FNF Funkin' Mix offers two complete weeks of gameplay, as well as bonus songs, where you'll sing against a variety of adversaries. Each character in the game is a mix of two characters from the Friday Night Funkin' universe, adding a new level of excitement to the game. Can you recognize which characters have been combined to create each new protagonist?
As you progress through the game, you'll encounter quality remixes, charismatic characters, and plenty of dialogue to keep you entertained. The mod features new songs, including Sickly Sour, a new track that you'll face off against Lila to. Get ready for an unforgettable adventure in music, with FNF Funkin' Mix. You may also like FNF Wednesday's Infidelity and Mii Funkin: Vs. Eteled
Tags: Boyfriend FNF
How to Play?
Use WASD or Arrow Keys to play FNF Funkin' Mix Mod Online Mod on your PC or laptop. + and – to increase/decrease the volume, 0 to mute. Enter to select. ESC to go back.