Play the game
In The Galaxy Mod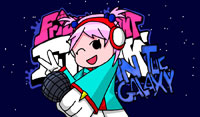 In The Galaxy Mod
In The Galaxy Mod
The In The Galaxy Mod is finally here among other FNF Mods. You'll be able to square off against the powerful vocalist Kastimagina onboard a spacecraft! Our two vocalists will perform the song "Galaxy" as a warm-up for their duel. Game, the second song, will be unveiled to you if you manage to keep up the pace. Your opponent of the day will demonstrate his abilities by manipulating notes and time-space! As a result, you'll have to adjust your gameplay style to match Kastimagina's. One of the most challenging Friday Night Funkin' moderators will face his greatest struggle when he takes on the creator of the final song.
Tags: Girlfriend FNF
How to Play?
Use WASD or Arrow Keys to play In The Galaxy Mod Online Mod on your PC or laptop. + and – to increase/decrease the volume, 0 to mute. Enter to select. ESC to go back.