Play the game
FNF Vs. Baldi's Basics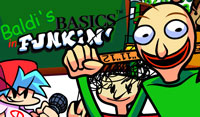 FNF Vs. Baldi's Basics
FNF Vs. Baldi's Basics
Are you ready to to learn to sing in FNF Vs. Baldi's Basics (a mod for Friday Night Funkin' game)? You're about to go on a unique journey inside the mind of Professor Baldi, the primary character of Baldi's Basics. The day's lesson will take place in front of Boyfriend during a rap battle in which you must sing three songs while maintaining the beat against the professor. Baldi will be uncompromising if you miss the last note. Basics Song's first song has a somewhat calm tempo, making it easy to get started. However, things will grow a lot more challenging in a short amount of time! Be a good student and keep attentive to achieve in the second song, Lesson. Baldi will appear in a new light if you manage to defeat him, you may even get access to a hidden song.
Tags: Boyfriend FNF, FNF Baldi
How to Play?
Use WASD or Arrow Keys to play FNF Vs. Baldi's Basics Online Mod on your PC or laptop. + and – to increase/decrease the volume, 0 to mute. Enter to select. ESC to go back.