Play the game
FNF Vs. Cassandra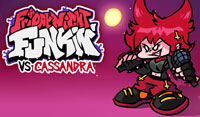 FNF Vs. Cassandra
FNF Vs. Cassandra
You have to resolve a long-standing family feud in the FNF Vs. Cassandra mod! Cassandra, a young, angst-ridden, and the depressed girl, appears out of nowhere when her Boyfriend and Girlfriend are strolling across town. She is most infamous for being Pico's sworn nemesis at Pico's School.
Play this FNF mod and have fun.
Tags: Boyfriend FNF, Girlfriend FNF, Pico FNF
How to Play?
Use WASD or Arrow Keys to play FNF Vs. Cassandra Online Mod on your PC or laptop. + and – to increase/decrease the volume, 0 to mute. Enter to select. ESC to go back.