Play the game
FNF Vs. Doki Doki Takeover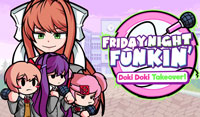 FNF Vs. Doki Doki Takeover
FNF Vs. Doki Doki Takeover
Boyfriend and Girlfriend met Monika, a young singer with considerable potential, on a bright day, and she immediately suggested a battle over a few songs.
High School Conflict, Bara No Yume, and Your Demise are all new songs in this Friday Night Funkin' (FNF) mod that require you to perform in front of a particular young lady whose narrative you will soon learn. Doki Doki Literature Club's antagonist, Monika, is one of the game's key characters.
Having escaped Monika's clutches, Boyfriend and Girlfriend find themselves at Monika's club while she is still AWOL. Doki Takeover Update! These students will become part of a singing chorus when they come here to meet with other literary club members. More than ten new songs await you and Sayori, Natsuki, and Yuri! In this significant update for FNF Doki Doki, you'll find 15 new songs, including remixes, plus a slew of new cutscenes that explain the plot and the obstacles of the next musical fights.
Tags: Boyfriend FNF, FNF Doki Doki Takeover
How to Play?
Use WASD or Arrow Keys to play FNF Vs. Doki Doki Takeover Online Mod on your PC or laptop. + and – to increase/decrease the volume, 0 to mute. Enter to select. ESC to go back.