Play the game
Friday Night Funkin' Vs. Shaggy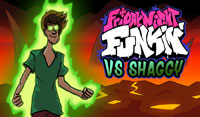 Friday Night Funkin' Vs. Shaggy
Friday Night Funkin' Vs. Shaggy
An epic showdown with Shaggy from the Scooby-Doo television series! This Friday Night Funkin' (FNF) mod has seven new songs that you may discover over two weeks. You and your girlfriend enjoy a stroll around a mansion when you come across Shaggy, who is distraught since he has lost his dog Scooby-doo. I don't know much about him, but I'm sure that won't stop him from singing a few songs against you. The girlfriend's indiscreet act toward Scooby-Doo will enrage Shaggy, who will be unable to enjoy the rest of the episode in peace. With 8 and 9 keys, you'll have to keep up with the fast rhythm of your opponent on songs such as Where Are You?, Eruption, Kaio Ken, What's New?, Blast and Super Saiyan, as well as the hidden tune Talladega. The mod provides an extension of the gameplay of FNF.
Tags: Girlfriend FNF
How to Play?
Use WASD or Arrow Keys to play Friday Night Funkin' Vs. Shaggy Online Mod on your PC or laptop. + and – to increase/decrease the volume, 0 to mute. Enter to select. ESC to go back.