Play the game
Funkin' at Freddy Vs. Afton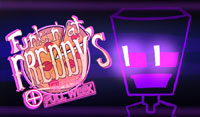 Funkin' at Freddy Vs. Afton
Funkin' at Freddy Vs. Afton
You may take on the "Purple Guy" in Funkin' at Freddy's Vs. Afton, a mod for Friday Night Funkin'. In this FNF Mod the famed designer of animatronics will be a particularly formidable opponent. A rap fight with a legendary and enigmatic figure awaits Boyfriend in yet another epic challenge. Boyfriend will face off against Fazbear Entertainment co-founder William Afton in a five-song battle over a punishing week. It's up to you to keep your cool and defeat Afton while exploring the Freeplay menu for more musical surprises!
Celebrate, Follow Me, Midnight, You Can't, Salvage, Nightmare, Umbra, Only a Theory, and Fourth Wall are just some of the songs played throughout the concert.
Tags: Boyfriend FNF, FNAF
How to Play?
Use WASD or Arrow Keys to play Funkin' at Freddy Vs. Afton Online Mod on your PC or laptop. + and – to increase/decrease the volume, 0 to mute. Enter to select. ESC to go back.