Play the game
FNF Vs. Tord: Red Fury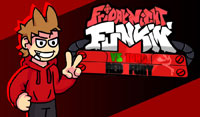 FNF Vs. Tord: Red Fury
FNF Vs. Tord: Red Fury
FNF Vs. Tord: Red Fury and His Rock'n'Roll Songs is a fast-paced clash between Red Fury and Tord. This Friday Night Funkin' mod will allow you to confront Eddsworld's main character. Boyfriend will have to face the wrath of Tord and his enormous robot in the next Red Fury update, which is still in beta but already delivers massive amounts of new material, including four weeks of gameplay and 13 new songs. In addition, you'll be able to join Tord in epic musical fights throughout the tale. The game's menus have been redesigned to better depict the plot, and several new cutscenes have been included. When your opponent has a gigantic robot chaining digital musical notes at full speed, you'll need to keep your attention and expertise at the highest level! Is it possible for a regular person to fulfill the difficulties put out by Tord?? As the musician, it's up to you to make sure you hit every note!
Tags: Boyfriend FNF, Tord FNF
How to Play?
Use WASD or Arrow Keys to play FNF Vs. Tord: Red Fury Online Mod on your PC or laptop. + and – to increase/decrease the volume, 0 to mute. Enter to select. ESC to go back.