Play the game
Friday Night Funkin' Vs. Kapi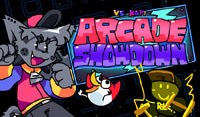 Friday Night Funkin' Vs. Kapi
Friday Night Funkin' Vs. Kapi
In this Friday Night Funkin' (FNF) mod, your new opponent is Kapi. Can you keep up the beat? An anthropomorphic grey cat named PaperKitty will be your primary adversary. As a lover of video games like Dance Dance Revolution, Kapi has honed his skills and acquired an excellent sense of rhythm. Wocky, Beathoven, Hairball, and Nyaw are the four new songs in which you'll face an unexpected and challenging struggle with your microphone flow. A fifth song is available in Freeplay in the V.S Kapi: Arcade Showdown mod. Mr Game & Watch is a playable antagonist.
Arcade Showdown V2: Kapi Arcade It's time for Boyfriend to face a fresh set of obstacles in this update's new tracks. With Kapi on "Meowgen" and the super-speed up a scratch, keep up the pace. The third Pyoro song has pixel art style graphics to pay homage to WarioWare's mini-game. As Pyoro, you'll have to grab fruits while keeping time with the beat.
Tags: Boyfriend FNF, Girlfriend FNF
How to Play?
Use WASD or Arrow Keys to play Friday Night Funkin' Vs. Kapi Online Mod on your PC or laptop. + and – to increase/decrease the volume, 0 to mute. Enter to select. ESC to go back.