Play the game
FNF Vs Imposter (Black Betrayal)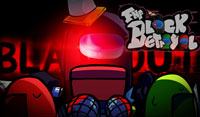 FNF Vs Imposter (Black Betrayal)
FNF Vs Imposter (Black Betrayal)
Prepare for some hilarious plot twists and backstabbing in FNF Vs. Imposter: Black Betrayal. Boyfriend and Girlfriend find themselves caught up in the midst of a musical tale of deception and rhythm, as they witness multiple betrayals among the impostors.
Version 1.5 of the game offers two weeks of remixed music in Blackout mode, as well as new songs in the freeplay menu. In the first week, Boyfriend engages in a rap battle against Green Impostor on the catchy tune "Overboard", but this doesn't sit well with the Black Impostor, who demands an explanation for the song "Betrayal". Meanwhile, Boyfriend sneaks off to play some TF2.
Returning for the third song "Defeat", Boyfriend delivers an intense and epic rap battle against Black Impostor. Losing is not an option, as it means certain death! In the second week, Boyfriend takes on Green and Red Impostor in a rap battle on the fast-paced song "Double Trouble", with musical notes scrolling by as quickly as the blades of their knives.
But the adventure doesn't end there. The Freeplay menu offers players four bonus songs, allowing Boyfriend and Girlfriend to continue their adventures and immerse themselves in even more musical fun.
If you're a fan of rhythm games and love a good story mixed in with your gameplay, FNF Vs. Imposter: Black Betrayal is definitely worth checking out. Get ready for some entertaining plot twists, catchy tunes, and intense rap battles as you navigate the world of impostors and deception.
FNF Vs Imposter (Black Betrayal) is a mod of the popular rhythm game Friday Night Funkin, featuring the characters from the hit game Among Us.
Tags: FNF Imposter
How to Play?
Use WASD or Arrow Keys to play FNF Vs Imposter (Black Betrayal) Online Mod on your PC or laptop. + and – to increase/decrease the volume, 0 to mute. Enter to select. ESC to go back.