Play the game
Friday Night Funkin' Vs. Whitty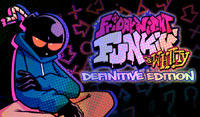 Friday Night Funkin' Vs. Whitty
Friday Night Funkin' Vs. Whitty
Take on Whitty Whitmore in Friday Night Funkin' (FNF) Vs. Whitty mod, who was already irritated by an item in the local newspaper, was startled by a "beep bop keep" that offered him a duel on his favorite songs in a dark alley. The challenge was taken grudgingly but in the end! Lo Fight, Overhead, and the deadly Ballistic are all up for grabs for you to play and defeat Whitty on. Will you be able to win the war if you miss the fewest notes? Whitty will morph into a ballistic mod during the last song, which will be very dangerous!
With the addition of a new week, Boyfriend and Julian T. Whitmore will have to square off on the street corner of a city in a rap battle to finish the original mod. On the unreleased song "Underground," Julian T. Whitmore, the human counterpart of Whitty, will challenge you to a musical battle. Hungry, a song about Whitmore's rage about her boyfriend's job at the fast-food joint, and Low Rise (a remix of Lo Fight) are included on the Freeplay menu. Two previously unheard remixes of "Balistic" and a remix of "Underground" are included as extras. You're in for a real treat when you learn the lyrics to a hidden tune! Is it possible for you to travel there on your own?
Tags: Boyfriend FNF, Girlfriend FNF, Whitty
How to Play?
Use WASD or Arrow Keys to play Friday Night Funkin' Vs. Whitty Online Mod on your PC or laptop. + and – to increase/decrease the volume, 0 to mute. Enter to select. ESC to go back.