Play the game
FNF Vs. FNAF 1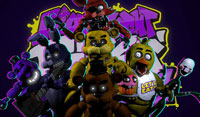 FNF Vs. FNAF 1
FNF Vs. FNAF 1
Make sure to put your anxieties aside since the Friday Night Funkin' mod FNF Vs. FNAF 1 takes you to a weird environment guarded by the renowned animatronics from the game Five Nights at Freddy's. While exploring Freddy Fazbear's pizzeria with Boyfriend and Girlfriend, they may have made a mistake since the terrible teddy bears swiftly agitate our two acolytes and challenge Boyfriend in a horrific musical duel! As a bonus, FNF Vs. FNAF 1 includes four weeks of three songs each. Defeating the four members of Freddy Fazbear's pizzeria's insane music group will demand the utmost concentration.
Tags: Boyfriend FNF, FNAF, Girlfriend FNF
How to Play?
Use WASD or Arrow Keys to play FNF Vs. FNAF 1 Online Mod on your PC or laptop. + and – to increase/decrease the volume, 0 to mute. Enter to select. ESC to go back.