Play the game
Pico Night Punkin'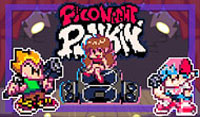 Pico Night Punkin'
Pico Night Punkin'
Are you fed up with your computer letting you down on Friday Night Funkin'? With the best graphics and sounds possible, you can play the 8-bit version of the cult game Pico Night Punkin' on any computer! However, it will not function properly on a tablet or smartphone (if some still want to try). Because Pico Night Punkin' doesn't lag, there's no excuse for stumbling over your beat or missing a note! All of the original FNF tracks may be played, and you'll be able to strive to get the best possible score on each one.
Even while Pico Night Punkin' has transcribed Friday Night Funkin' exactly, some of you may request the inclusion of tweaks. Then then, that's not the case! There are no modifications, no new music, and no regular updates in this 8-bit version of one of the greatest games ever! 😉
In honour of Pico Day 2021, I developed a low-res version of Friday Night Funkin' in PICO-8 called Pico Night Punkin'.
Despite the limitations of PICO-8, CarsonKompon and best Manx have done their best to honour the original version of the game.
Tags: Pico FNF
How to Play?
Use WASD or Arrow Keys to play Pico Night Punkin' Online Mod on your PC or laptop. + and – to increase/decrease the volume, 0 to mute. Enter to select. ESC to go back.