Play the game
FNF Vs. Hypno's Lullaby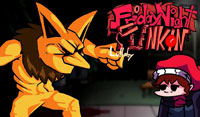 FNF Vs. Hypno's Lullaby
FNF Vs. Hypno's Lullaby
Rap battles between Girlfriend and a terrifying Hypno in this Friday Night Funkin mod FNF Vs. Hypno's Lullaby.
From the first generation, Hypno's Lullaby mod pits Girlfriend against a dark and horrifying version of the Psy-type Pokémon Hypno. In an attempt to track down their Boyfriend, the Girlfriend sets out on her own, where she encounters Hypno, who invites her to accompany him into the forest, where he claims to have seen her Boyfriend… The Girlfriend will have to sing her heart out in an extremely challenging musical duel to get out of the trap. FNF Hypno's Lullaby was made by Banbuds (Tricky 2.0) as a homage to TrainerDerek's creepypasta Hypno's Lullaby. On three new tracks in the narrative mode, you may follow the Girlfriend's travels and learn new gaming concepts! For the fourth time, a hidden song has to be unlocked.
Tags: Girlfriend FNF
How to Play?
Use WASD or Arrow Keys to play FNF Vs. Hypno's Lullaby Online Mod on your PC or laptop. + and – to increase/decrease the volume, 0 to mute. Enter to select. ESC to go back.