Play the game
FNF Poppy Raptime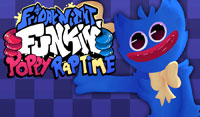 FNF Poppy Raptime
FNF Poppy Raptime
Yet another Huggy Wuggy FNF mod for Friday Night Funkin.
In FNF Poppy Raptime Boyfriend will face Huggy Wuggy again in exciting rap battle.
At the moment there is only two songs in this FNF mod. Hopefully there will be more songs coming soon.
Songs: Hugs, Squish
Tags: Boyfriend FNF
How to Play?
Use WASD or Arrow Keys to play FNF Poppy Raptime Online Mod on your PC or laptop. + and – to increase/decrease the volume, 0 to mute. Enter to select. ESC to go back.