Play the game
Battle For A Friday Night Disaster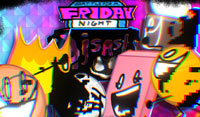 Battle For A Friday Night Disaster
Battle For A Friday Night Disaster
Welcome to the world of FNF Battle for a Friday Night Disaster (Battle for Corrupted Island V2), where darkness has descended upon the world of Battle for Dream Island. The once peaceful world has been corrupted, and our friends of the series Come and Learn with Pibby are in danger. But there's still hope. Pibby is on a mission to save his friends through high-intensity rap battles.
In this mod, you will embark on an epic and long adventure over the course of 6 weeks, consisting of 13 challenging songs. The mod features numerous dialogues and cutscenes that will enhance the transitions between each song, and give you a glimpse of the world that has been corrupted by darkness.
Accompany Pibby on his perilous journey as he tries to restore order in his world. However, it's not going to be easy. Pibby's friends have been corrupted, and they have turned into zombies. To save them, Pibby has to engage in fierce rap battles against them and prove his musical prowess.
But that's not all. Pibby will also have to face other insane opponents who have lost their minds due to the corruption. You will have to help Pibby maintain the rhythm and hit the right notes in these rap battles. Remember, only high-intensity rap battles can save Pibby's friends and restore order to the world.
Unfortunately, Boyfriend, Pibby's usual partner in rap battles, seems to be missing in action. Pibby is all alone in his mission, but he's determined to succeed. Will Pibby be strong and brave enough to save his friends and eradicate the zombies? That's for you to find out. Join Pibby in this challenging and exciting mod, and experience the thrill of high-intensity rap battles.
You may also like FNF Multiplayer and Friday Night Funkin Vs. Nonsense
Tags: FNF Pibby
How to Play?
Use WASD or Arrow Keys to play Battle For A Friday Night Disaster Online Mod on your PC or laptop. + and – to increase/decrease the volume, 0 to mute. Enter to select. ESC to go back.