Play the game
FNF Vs. Sky Remanifest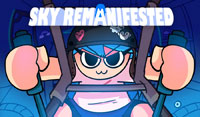 FNF Vs. Sky Remanifest
FNF Vs. Sky Remanifest
Wife-Forever, Sky, and Manifest, these songs are are part of the Friday Night Funkin' | FNF Vs. Sky mod. The character of Sky is a fictitious one.
The lives of Boyfriend and Girlfriend are at stake! Sky, an obsessive admirer of Boyfriend, is relentless in her pursuit of him. Let's wrap it out with that insane stalker of mine!
Tags: Boyfriend FNF
How to Play?
Use WASD or Arrow Keys to play FNF Vs. Sky Remanifest Online Mod on your PC or laptop. + and – to increase/decrease the volume, 0 to mute. Enter to select. ESC to go back.