Play the game
Friday Night Funkin' Vs. Hex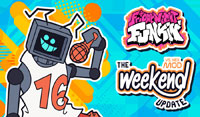 Friday Night Funkin' Vs. Hex
Friday Night Funkin' Vs. Hex
FNF Vs. Hex is a Friday Night Funkin' mod that pits you against a mystery robot. A rich lone entrepreneur invented Hex as a companion for himself. After the death of this final Hex, he was left to fend for by alone and succumbed to a disease that was slowly devouring him. In any case, Hex had amassed a sizable wealth thanks to its inventor, and he was now attempting to live a normal life by seeking out new acquaintances. Having signed up for the city's basketball team, he ran into his Boyfriend and Girlfriend, who were out and about having fun. Rap fight on four songs, and an extra tune ensued. Musical characters such as Dunk, Ram, Hello World, Glitcher, and Encore will guide you through the exciting narrative of the Hex robot via the use of song and rhythm.
The Hex robot is the star of this weekend's update, including a new week (or rather a weekend) and five new tunes. You may join Boyfriend in rap fights on Cooling, Detected, and Glitcher (remix). After the week is through, you'll be able to hear Java and LCD in the Freeplay menu. Additionally, the menus have been revamped, and new features have been included!
Tags: Boyfriend FNF, Girlfriend FNF
How to Play?
Use WASD or Arrow Keys to play Friday Night Funkin' Vs. Hex Online Mod on your PC or laptop. + and – to increase/decrease the volume, 0 to mute. Enter to select. ESC to go back.