Play the game
Friday Night Funkin' Vs. Huggy Wuggy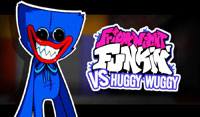 Friday Night Funkin' Vs. Huggy Wuggy
Friday Night Funkin' Vs. Huggy Wuggy
In FNF Vs. Huggy Wuggy, Poppy Playtime's scary mascot, Huggy Wuggy, challenges Boyfriend to a song duel of his design. If you've ever wondered what it would be like to sing with a guy with such enormous teeth, Huggy Wuggy is your man. Playtime, a four-minute tune that will test your ability to maintain focus, challenges you to retain the beat while missing as few notes as possible. PLaytime Co., a fictitious video game corporation, produced Huggy Wuggy as a toy. When the corporation conducted covert toy experiments, Huggy Wuggy came to life and went on a murderous spree, murdering anybody he came into contact with. In this FNF mod, will you be able to bring him back to his senses via song?
Tags: Boyfriend FNF, Girlfriend FNF
How to Play?
Use WASD or Arrow Keys to play Friday Night Funkin' Vs. Huggy Wuggy Online Mod on your PC or laptop. + and – to increase/decrease the volume, 0 to mute. Enter to select. ESC to go back.