Play the game
FNF Vs. Bob and Bosip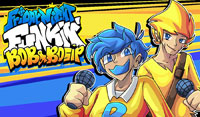 FNF Vs. Bob and Bosip
FNF Vs. Bob and Bosip
When Boyfriend join Friday Night Funkin', he will have to face off against Bob and Bosip in this cool FNF Mod. Upon joining the game, Bob and Bossip discover that they're playing a completely different game than they were hoping to play together in Minecraft. By the time they find out they're playing Friday Night Funkin', a game in which the players must meet a pair dubbed Boyfriend & Girlfriend and fight one of them in a battle of the raps, they'll be out of the game. The song "Jump-in" will be performed by Bob first, followed by "Swing" by Bossip. A new character will sing "Split" at the film's end. Quality cutscenes and several fully spoken lines are included in the mod.
Playing a variety of characters such as Bob, Bossip, and Boyfriend in a musical duel against a mysterious figure named Bob is all part of the fun of Bob Takeover Week.
Tags: Boyfriend FNF, Girlfriend FNF
How to Play?
Use WASD or Arrow Keys to play FNF Vs. Bob and Bosip Online Mod on your PC or laptop. + and – to increase/decrease the volume, 0 to mute. Enter to select. ESC to go back.