Play the game
FNF Vs. Tails.exe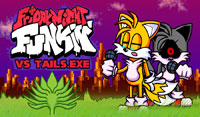 FNF Vs. Tails.exe
FNF Vs. Tails.exe
Boyfriend seems to have the skill to take on Tails, corrupted by a cursed version of him, in this FNF Vs Tails.exe mod for Friday Night Funkin' game. A melancholic rap battle is what Boyfriend has in store for Tails on the "Chasing" track in the Hill Act 1 level. With a duel victory, you will get access to the most difficult tasks in this mod's Story mode. 
Tags: Boyfriend FNF, Tails FNF
How to Play?
Use WASD or Arrow Keys to play FNF Vs. Tails.exe Online Mod on your PC or laptop. + and – to increase/decrease the volume, 0 to mute. Enter to select. ESC to go back.