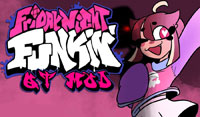 FNF Vs. QT
FNF Vs. QT
Since he got renowned, Boyfriend has a devoted following, and you'll meet one in FNF Vs. QT Mod for Friday Night Funkin' game. It's possible that QT isn't as enchanting as she seems, and the musical challenges she'll present are only ploys for you to pay attention to. Once Carefree and Careless have been performed, QT will expose her real face and conduct an even more drastic metamorphosis in Sensory Overload and Termination to intensify her performance. Will you be able to beat QT on hard mode and get the hidden song? Please take a seat.
The song Termination has added a new game feature as part of the FNF vs QT 2.0 update. A brand-new track, «Interlope,» can be found in the Freeplay menu."
Tags: Boyfriend FNF
How to Play?
Use WASD or Arrow Keys to play FNF Vs. QT Online Mod on your PC or laptop. + and – to increase/decrease the volume, 0 to mute. Enter to select. ESC to go back.