Play the game
FNF Vs. Uberkids: Unloaded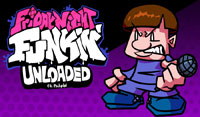 FNF Vs. Uberkids: Unloaded
FNF Vs. Uberkids: Unloaded
It's your choice whether or not you and your pals will live or die in FNF Vs. Uberkids: Unloaded as you play as Pico and confront his longtime rivals, the Überkids. You're under attack by an army of Überkids. Sing against their commanders while Nene and Darnell deal with any attackers sneaking up behind you. If you manage to avoid missing too many notes, Pico unleashes a shower of gunfire and other dramatic occurrences on his enemies of the day!
Tom Fulp's rock-paper-scissors Russian roulette game Pico vs Uberkids featured the Überkids as the primary opponents in 2000.
Tags: Pico FNF
How to Play?
Use WASD or Arrow Keys to play FNF Vs. Uberkids: Unloaded Online Mod on your PC or laptop. + and – to increase/decrease the volume, 0 to mute. Enter to select. ESC to go back.