Play the game
FNF Vs. Accelerant Hank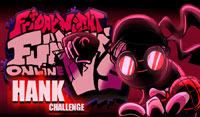 FNF Vs. Accelerant Hank
FNF Vs. Accelerant Hank
FNF vs Accelerant Hank (Friday Night Funkin' online Hank Challenge) is an amazing rap battle to a tune that will stick in your head. Indeed, Hank J. Wimbleton, the Madness Combat series special agent, made a stunning debut in the rap battle scene. He will surely be one of the most captivating opponents that Boyfriend will face since the beginning of his career as a beep bop ski doo bop singer. Put up a fight against Hank's frantic beats. Hank will continue to work as a special agent while singing, so expect his musical notes to move at the speed of his ninja maneuvers. There will be a special guest star amid the song, but he will only be there for a little period since that's not Tricky's style. Even if played on the easiest setting, FNF Vs. Accelerant Hank Mod is a significant challenge, requiring near-perfect skill and unwavering focus to complete.
Tags: Boyfriend FNF, Tricky FNF
How to Play?
Use WASD or Arrow Keys to play FNF Vs. Accelerant Hank Online Mod on your PC or laptop. + and – to increase/decrease the volume, 0 to mute. Enter to select. ESC to go back.