Play the game
FNF vs The X Event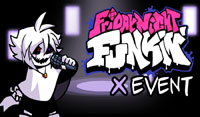 FNF vs The X Event
FNF vs The X Event
Learn about FNF Three new tracks from the Friday Night Funkin' X-Event mod, including Overwrite, InKing Mistake, and Relighted. Boyfriend and Girlfriend will return to the world of Undertale, where they will face off against three of the game's most memorable characters. Ink will confront you in the second after facing XChara and her captivating rhythm in the first song. In the third bout, you'll face the mighty XGaster, whose Relighted Rock'n'Roll variant is very quick. Sans will stay undisturbed by your abilities. Will you be able to finish WeekX in its most difficult setting? This mod has a lot of difficult tasks for you to do.
Tags: Boyfriend FNF, Undertale
How to Play?
Use WASD or Arrow Keys to play FNF vs The X Event Online Mod on your PC or laptop. + and – to increase/decrease the volume, 0 to mute. Enter to select. ESC to go back.