Play the game
FNF Vs. Cassette Girl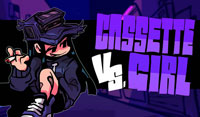 FNF Vs. Cassette Girl
FNF Vs. Cassette Girl
FNF Vs. Cassette Girl gives you the chance to meet and perform against one of the next Friday Night Funkin' characters. Pico, Tankman, and Hank first teased with Cassette Girl a long time ago, but some fans decided to create an entire mod around this outlandish figure. Cassette Girl will face off against Boyfriend in a groovy rap fight that is both quiet and melodic, sporting an outfit straight out of the 1990s and a unique cap into which she can put a music cassette. Ukiyo, Earworm, and Machina are the three songs you may sing along to in the tale mod. In front of a receptive audience of music enthusiasts, try to defeat Cassette Girl. Two more songs are available in the Freeplay mode.
Tags: Boyfriend FNF, Pico FNF
How to Play?
Use WASD or Arrow Keys to play FNF Vs. Cassette Girl Online Mod on your PC or laptop. + and – to increase/decrease the volume, 0 to mute. Enter to select. ESC to go back.