Play the game
Friday Night Funkin' Vs. Matt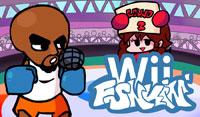 Friday Night Funkin' Vs. Matt
Friday Night Funkin' Vs. Matt
For the complete three weeks, featuring 10 new tracks, you'll have to defeat Matt in the mod FNF Vs. Matt for Friday Night Funkin' (wiik 3 fanmade version included). Wii Sports' Matt is a well-known video game character who competes in various sports, but his greatest accomplishment is as a world-class boxer. If you keep up with the pace, your combat will last many weeks. He'll be a strong opponent. Light-It-Up, Ruckus, and Target Practice are all included in week one, while Sporting and the dreaded Boxing-Match are included in week two. Fisticuffs, Wind-Up, Deathmatch, and King-It, are all from the fanmade Week 3 album.
Tags: Girlfriend FNF
How to Play?
Use WASD or Arrow Keys to play Friday Night Funkin' Vs. Matt Online Mod on your PC or laptop. + and – to increase/decrease the volume, 0 to mute. Enter to select. ESC to go back.