Play the game
FNF Vs. Starlight Mayhem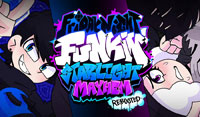 FNF Vs. Starlight Mayhem
FNF Vs. Starlight Mayhem
In FNF, you may become a pop star. Wow, Girlfriend, a Friday Night Funkin' mod, in front of a ravenous audience! You and your girlfriend decide to go to a local music festival and stop to listen to a brand that you think has a bright future. A well-versed musician like CJ will recognize you right away if you're in the crowd. There are three new songs to learn about each other on stage: Inverted Ascension, Echoes, and Artificial Lust. Ruby, a vocalist with an impeccable sense of timing, will join CJ, who may not be the finest singer. YouTuber TheMaskedChris designed starlight Mayhem, and you may play the whole week in one of five different modes: Standard, Flip, Chaos, One Arrow, and Stair.
After finishing the first week, you'll be able to access a hidden week in the game. CJ and Ruby will face off against Boyfriend on four new songs: Parallax, Starstorm, Code, and It's Complicated.
Tags: Boyfriend FNF
How to Play?
Use WASD or Arrow Keys to play FNF Vs. Starlight Mayhem Online Mod on your PC or laptop. + and – to increase/decrease the volume, 0 to mute. Enter to select. ESC to go back.