Play the game
FNF: Sarvente's Mid-Fight Masses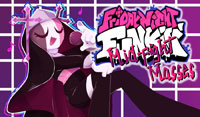 FNF: Sarvente's Mid-Fight Masses
FNF: Sarvente's Mid-Fight Masses
Midnight Masses for Friday Night Funkin' are offered by the FNF mods. In their haste to find a restroom (to clean up!), Boyfriend and Girlfriend accidentally unlocked a door leading to a lovely and mysterious cathedral. In the first song of the mass, our couple was invited to stay by a nun called Sarvente, who urged with a smile and gent. It's not all bad news, though, as Sarvente and Ruv (a fleeing criminal) are about to unveil their genuine motives in 5 wild songs. If you're looking for dramatic and challenging fights in a stunning and rhythmic cosmos, Parish, Worship, Zavodila, Gospel, and Casanova is for you!
Tags: Boyfriend FNF, Girlfriend FNF
How to Play?
Use WASD or Arrow Keys to play FNF: Sarvente's Mid-Fight Masses Online Mod on your PC or laptop. + and – to increase/decrease the volume, 0 to mute. Enter to select. ESC to go back.