Play the game
FNF vs Sonic Exe 2.0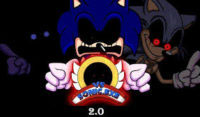 FNF vs Sonic Exe 2.0
FNF vs Sonic Exe 2.0
FNF Vs Sonic Exe 2.0 is an exciting and thrilling music game that will test your rhythm and reflexes. The game is the sequel to the popular FNF Vs Sonic Exe, and it comes with improved gameplay and graphics. In this game, you will play as the protagonist, Boyfriend, who is on a mission to defeat the evil Sonic Exe and save his Girlfriend.
Gameplay
The gameplay of this FNF mod is simple but challenging. The game features eight different levels, each with its unique soundtrack and background. You will have to follow the rhythm of the music and press the correct arrow keys on your keyboard to match the beat. The game has three difficulty levels: easy, medium, and hard. Each level has a different set of challenges and obstacles that will test your reflexes and rhythm.
Graphics and Soundtrack
FNF Sonic Exe 2.0 features stunning graphics and a fantastic soundtrack. The game's graphics are vibrant and colorful, and they perfectly complement the game's music. The soundtrack of the game is composed of eight different songs, each with its unique beat and rhythm. The music is catchy and upbeat, and it will keep you hooked to the game for hours.
Controls
The controls of the game are straightforward. You will need to use the arrow keys on your keyboard to match the beat of the music. The arrow keys correspond to the arrows on the screen, and you will need to press them at the right time to score points.
Overall
FNF Vs Sonic Exe 2.0 is an excellent music game that will keep you entertained for hours. The game's graphics and soundtrack are fantastic, and the gameplay is challenging and exciting. With its multiplayer mode and three difficulty levels, the game has something for everyone. If you are a fan of music games, FNF Vs Sonic Exe 2.0 is a must-play.
Tags: Boyfriend FNF, Girlfriend FNF, Sonic Exe
How to Play?
Use WASD or Arrow Keys to play FNF vs Sonic Exe 2.0 Online Mod on your PC or laptop. + and – to increase/decrease the volume, 0 to mute. Enter to select. ESC to go back.