Play the game
FNF Vs. Bob Week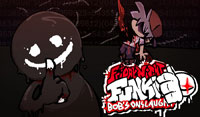 FNF Vs. Bob Week
FNF Vs. Bob Week
FNF Vs. Bob Week (Bob Onslaught included) for Friday Night Funkin' is among the most perplexing and shocking mods ever. In the first week, you will encounter a unique hand-drawn creature who sings three new songs: the eerie Run! There are three songs in the second week (Bob's Onslaught), Ron Song, Trouble Song, and Onslaught Bob. On top of that, you'll have to have a perfect sense of timing to finish the week strong with your Boyfriend. The extended Little Man Song is included in the Freeplay mode! After a few defeats versus Bob, there is a button on the home screen that enables you to produce a farting noise.
Tags: Boyfriend FNF, Girlfriend FNF
How to Play?
Use WASD or Arrow Keys to play FNF Vs. Bob Week Online Mod on your PC or laptop. + and – to increase/decrease the volume, 0 to mute. Enter to select. ESC to go back.