Play the game
Friday Night Funkin' Vs. Nonsense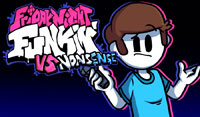 Friday Night Funkin' Vs. Nonsense
Friday Night Funkin' Vs. Nonsense
If you're looking for something a little out of the ordinary in Friday Night Funkin' and its mods, this is your style!
Boyfriend will compel Nonsense to participate in a rap battle to assess their abilities as singers and decide who is the greatest. Common Sense, Highlights, and Context are the three unreleased tracks that will focus on the challenge.
New mechanics and fully dubbed cutscenes are available in the game, and the events and cutscenes will change based on your performance. As with its creator's YouTube channel, NonsenseHumor, this mod will sometimes deliver quirky and weird comedy to help lighten the mood in this realm of rap battles. By winning all of your bouts and missing as few notes as possible, Nonsense is concealing a secret.
Tags: Boyfriend FNF, Girlfriend FNF
How to Play?
Use WASD or Arrow Keys to play Friday Night Funkin' Vs. Nonsense Online Mod on your PC or laptop. + and – to increase/decrease the volume, 0 to mute. Enter to select. ESC to go back.