Play the game
FNF Vs. Ben Drowned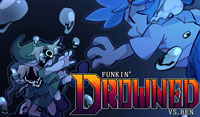 FNF Vs. Ben Drowned
FNF Vs. Ben Drowned
FNF Vs. BEN Drowned mod for Friday Night Funkin' promises to be an unforgettable musical experience! Save Ben from his depravity by going head-to-head with Boyfriend in an all-out rap battle to the beat of a cult classic.
This doorway seems to go to another realm once you fight off a weird figure with an all-blue mask. It's hard to tell where you are in this strange, red-lit area. A weird, terrified, and shivering statue stares at you after you've followed her for a long time.
Alex Hall's creepypasta series Haunted Majora's Mask Cartridge, based on The Legend of Zelda: Majora's Mask, stars Ben Drowned. According to the legend, a young college student called Jadusable saved money by purchasing an old Nintendo 64 at a discount. Majora's Mask was on this console. However, the cartridge appears inhabited by an omniscient and evil ghost!
Tags: Boyfriend FNF
How to Play?
Use WASD or Arrow Keys to play FNF Vs. Ben Drowned Online Mod on your PC or laptop. + and – to increase/decrease the volume, 0 to mute. Enter to select. ESC to go back.