Play the game
Friday Night Funkin' HD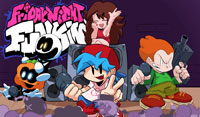 Friday Night Funkin' HD
Friday Night Funkin' HD
It's a high-resolution mod of Friday Night Funkin' that adds additional dialogue and history to the first four weeks of the game. The canonical tale of Friday Night Funkin' is not told in the FNF HD mod; instead, the mythology of several landmarks in the Friday Night Funkin' world is combined. The whole soundtrack is reworked with subtle and improved remixes in this important upgrade. Each song has been meticulously crafted to provide you with a fresh set of rhythms to learn.
Tags: Girlfriend FNF
How to Play?
Use WASD or Arrow Keys to play Friday Night Funkin' HD Online Mod on your PC or laptop. + and – to increase/decrease the volume, 0 to mute. Enter to select. ESC to go back.