Play the game
FNF: Pico's School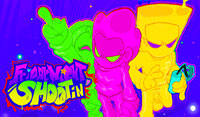 FNF: Pico's School
FNF: Pico's School
Pico will replace Boyfriend in this FNF Pico's School: Friday Night Shootin' mod, which includes characters from the Newgrounds flash cartoon series Pico's School. During the first week, Nene will meet Pico in a rap battle. Oliver Piconjo, the wicked hero of the animated series of the same name and the video game Newgrounds Rumble, will be your opponent in the second week. Without losing your rhythm or missing any notes, you'll have to attempt to out-rock him on three frantic rock songs, Adobe Trash, Piconjos School and Trapped In Them Aym. In the third week, Alucard, the most dreaded nemesis of Pico's School, will face off in the rap battle. A member of the Goth Punks, he is also very powerful in the area of telekinesis. Three new tracks, Mind Over Matter, Technokinesis, and Rhythmic Ascension, pit you against Alucard.
Tags: Boyfriend FNF, Pico FNF
How to Play?
Use WASD or Arrow Keys to play FNF: Pico's School Online Mod on your PC or laptop. + and – to increase/decrease the volume, 0 to mute. Enter to select. ESC to go back.