Play the game
FNF Vs. Mommy Long Legs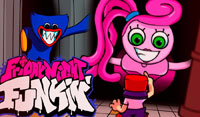 FNF Vs. Mommy Long Legs
FNF Vs. Mommy Long Legs
In FNF Vs. Mommy Long Legs, a mod for Friday Night Funkin', Boyfriend will have to choose between the two horrifying characters from the game Poppy Playtime: Mommy Long Legs and FNF. Huggy Wuggy will be the first obstacle to overcome when singing "Hug Me" in front of him. He only wants a hug, so why flee? As a result of the second fight, Boyfriend will face a foe he may wish he hadn't met. In the song "Special Guest", Mommy Long Legs, the main character of Chapter 2 of Poppy Play Time, will fight against you. Make your way through the spider toy's many legs by singing along the lyrics. You'll also discover an epic final song versus Mommy Long Legs in the free play menu. To win, "Mommy time" will be the last obstacle.
For your listening pleasure, here is the whole list of songs:
Hug Me
Special Guest
Mommytime
Tags: Boyfriend FNF
How to Play?
Use WASD or Arrow Keys to play FNF Vs. Mommy Long Legs Online Mod on your PC or laptop. + and – to increase/decrease the volume, 0 to mute. Enter to select. ESC to go back.