Play the game
FNF Vs. Camellia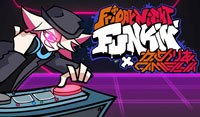 FNF Vs. Camellia
FNF Vs. Camellia
Your reputation as a musical slugger has only grown in recent months. In the FNF Vs. Camellia for Friday Night Funkin' mod, you'll have to keep up with a well-known and skilled opponent. Battle it out in an electro/dubstep battle on the tracks "First Town," "Liquated," and "Why Do You Hate Me" with the DJ (creator of the renowned Undertale's song remix MEGALOVANIA). When Camellia and her turntable play fast and demanding tunes, will you be able to keep up with the beat? The sections where there will be a deluge of notes on the screen will need a lot of practice. To succeed in a challenging situation, you'll need quick reflexes and perfect timing. It's, without a doubt, the most difficult FNF mod ever made.
Tags: Girlfriend FNF
How to Play?
Use WASD or Arrow Keys to play FNF Vs. Camellia Online Mod on your PC or laptop. + and – to increase/decrease the volume, 0 to mute. Enter to select. ESC to go back.