Play the game
FNF Vs. Pibby Corrupted Steven & Spinel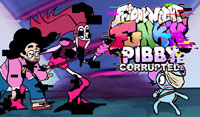 FNF Vs. Pibby Corrupted Steven & Spinel
FNF Vs. Pibby Corrupted Steven & Spinel
FNF Vs. Pibby Corrupted Steven & Spinel, a Friday Night Funkin' mod inspired by "Come Learn With Pibby," pits you against a legendary hero who seems to have gone insane. Musical conflicts are the only way to restore normality to Steven and Spinel, who an unknown power has corrupted. A battle set to the tune "You'll make a difference" will pit you against Steven against your Boyfriend. Midway through the song, we'll be joined by a very special guest! I'll Be Fine and We Always Save The Day are the next two songs in the duel, both of which need a high level of attention to avoid missing any notes. Boyfriend and Spinel will fight one more time while singing "Your Last Friend" at the end of the narrative.
Tags: Boyfriend FNF, FNF Pibby
How to Play?
Use WASD or Arrow Keys to play FNF Vs. Pibby Corrupted Steven & Spinel Online Mod on your PC or laptop. + and – to increase/decrease the volume, 0 to mute. Enter to select. ESC to go back.