Play the game
Friday Night Crunchin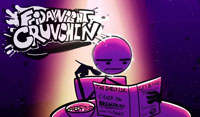 Friday Night Crunchin
Friday Night Crunchin
Friday Night Crunchin' is an exciting FNF mod that features Boyfriend, Cereal Guy, Trollface, and more. This version includes Week 1, new songs from Friday Night Crunchin' V2, and a special Halloween update. Boyfriend faces off against Cereal Guy in three rhythmic breakfast battles during Week 1. Week 2 takes a somber turn, with Boyfriend taking on Trolo and Trollface in three emotional songs. But the freeplay menu offers even more challenges, including Trolljak, Poop Madness from "Big Mouth," and a Halloween song featuring Skull Trumpet. Get ready to groove with the beat and take on these new opponents in this crunchy mod!
Music
Of course, no rhythm game would be complete without great music, and Friday Night Crunchin delivers. The game features a variety of original tracks, each with its own style and flavor. From upbeat pop tunes to gritty rap battles, there's something for everyone.
Graphics
The graphics in Friday Night Crunchin are simple but effective. The characters are all hand-drawn, with a fun and cartoony style that adds to the game's charm. The backgrounds are also well-designed, with each stage featuring its own unique look and feel.
Friday Night Crunchin is a fun and challenging rhythm game that's sure to keep you entertained for hours. With its great music, colorful characters, and addictive gameplay, it's a must-play for fans of the genre. You may also like FNF Vs. Doki Doki Takeover and FNF Vs. Sky Remanifest
How to Play?
Use WASD or Arrow Keys to play Friday Night Crunchin Online Mod on your PC or laptop. + and – to increase/decrease the volume, 0 to mute. Enter to select. ESC to go back.